(Go to home page)Did you ever think about how you would manage to carry all of the stuff you seem to need to have handy if your mobility was either temporarily or permanently impaired? Well, our friends at Adaptable Designs have thought about this and have created solutions that we are proud to make available to you. Walker bags, wheelchair bags, bedrails bags and more. All products are made with superior quality right here in the USA and we are the exclusive source for these terrific accessories. Adaptable Designs is a division of Buck and Buck. Take a look and discover the product that will help you out. (link to all bags).
Adaptable designs in clothing is also our specialty so take a look at our many clothing items that will make dressing easier for those with self-dressing challenges.
Adaptable Designs Styles
Wheelchair Accessories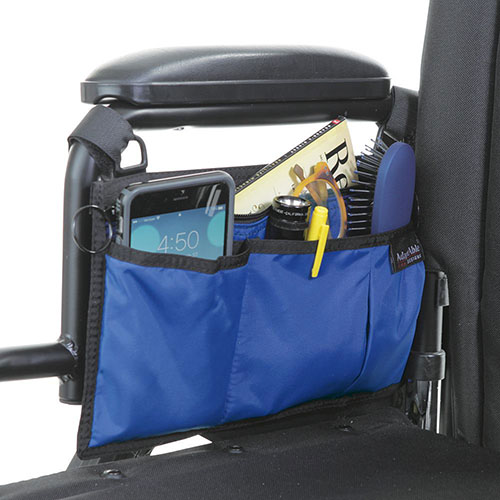 Our Sidekick Wheelchair pouch easily attaches to the arm of your wheelchair and keeps essentials close at hand.
The Envelope Wheelchair pouch is a great inexpensive way to have things at the ready. Attaches right to the wheelchair arm.
Our Basic and Folding Cup Holders make carrying liquids much less of a challenge for wheelchair and walker users.
On the go all day means the need for more items. Our Day Pack will accomodate a jacket, books, most portable computer devices, etc. It attaches to the wheelchair handles and even has a reflective tape for visibility.
The Just Right Organizer is perfect for attaching to wheelchairs, walkers, scooters or bedrails.
The Stowaway wheelchair pack attaches under the wheelchair for those extra items you cannot do without.
Our Urinary Drainage Bag Cover helps to protect your privacy by consealing your urinary drainage bag from view, yet allowing necessary emptying and volumn assessment. Attaches underneath the wheelchair or on the lower frame of a walker.
Soft, thick fleece arm protectors make a gentle cushion for the arms for those in a wheechair all day.
Flashlight ready when you need one. Attaches to wheelchair or walker. Great for night trips to the bathroom.
Rainproof wheelchair ponchos for women and men will keep you dry and comfortable.
Fleece Ponchos for men and women will help to keep out the chill as you are out and about in your wheelchair.