(Go to home page). Our clothing for senior citizens is designed for easy dressing, comfort and style while addressing the challenges of potential decreased mobility, need for maintenance of independence and the possible need for assisted dressing.
While many disabled adults find our adaptive garments the solution to their dressing issues, our vast majority of customers are age 80 plus, with a growing number in their 90's and beyond. We therefore focus on the styles, fabrics, prints and designs that women and men in those age categories seem to prefer. Some of our clothing styles may remind you of your grandmother and grandfather since that is our major consumer population, although some of our fashions like our sweatsuits and separates are popular with all age groups.
If you have a specific dressing need, let us know and we will be happy to work with you.
Choose from our wide selection of clothing for seniors according to the person's dressing needs. The person dresses independently (self dresser) or needs help to dress (assisted dressing). Select from our Senior Clothing for Women or Senior Clothing for Men categories.
Women's Senior Clothing Styles
Senior Clothing for Women – Dresses Independently/Self Dresser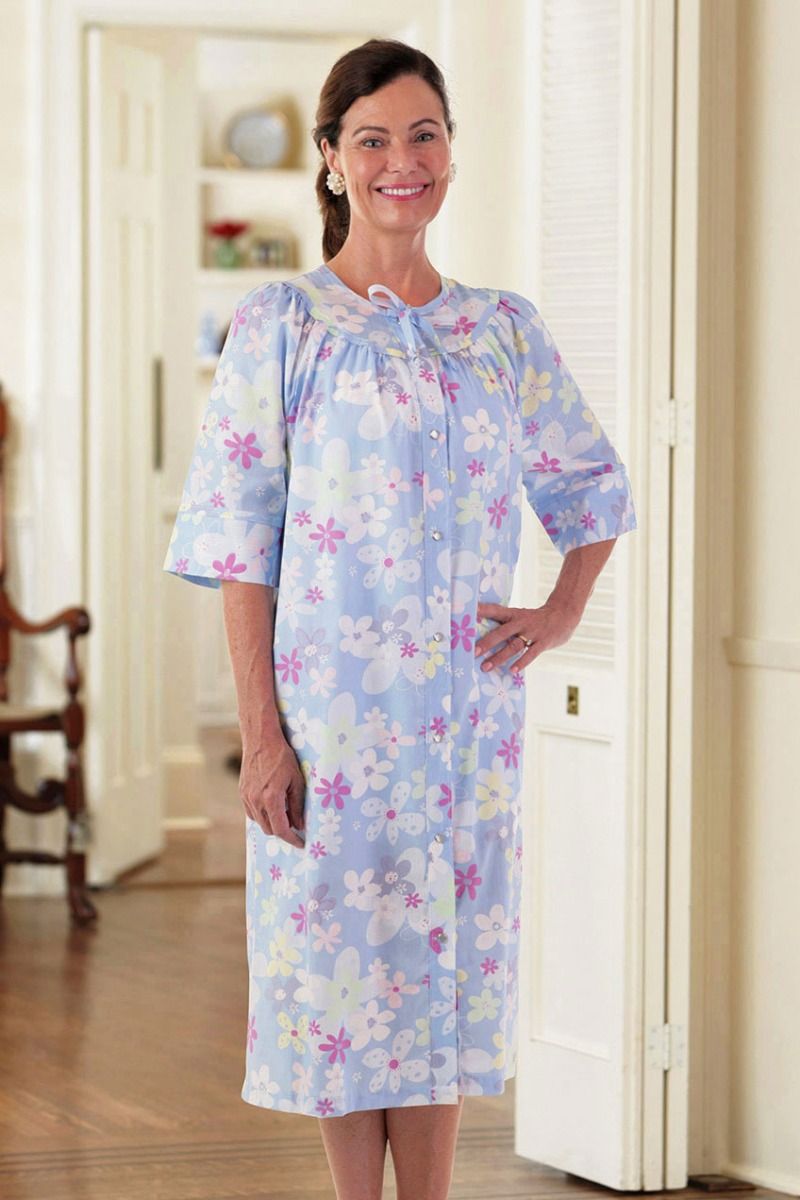 Our comfortable dusters may be just the thing your lady has been searching for. This style of easy to wear duster/housecoat is always available from us in a variety of prints, colors and fabrics. She will also like our muu muu collection, so please take a look.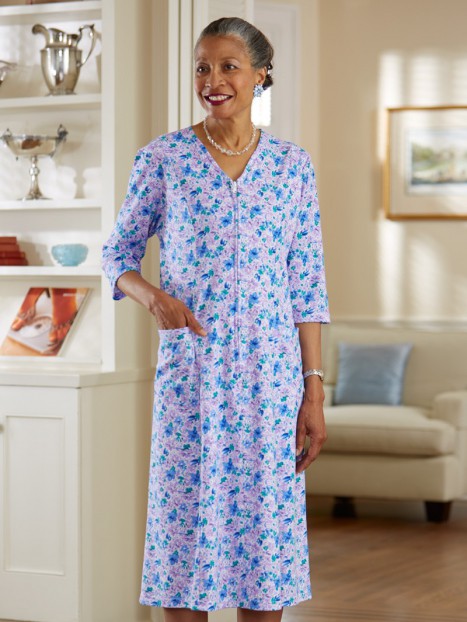 Our dresses have 3/4 front zippers or pull on over the head making self dressing less of a challenge. We will add a loop or larger tab to the zipper for her dressing ease. Just ask us.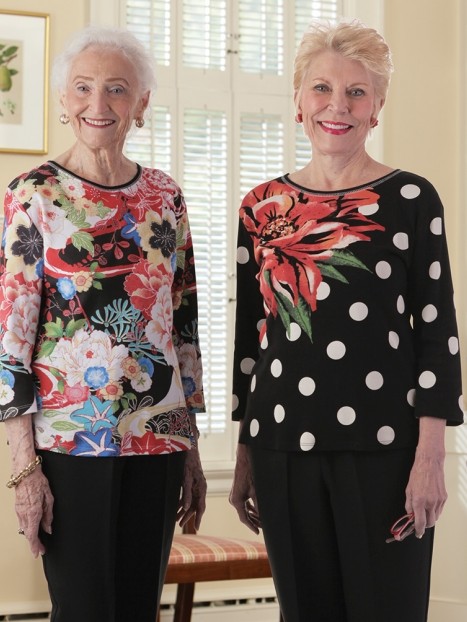 Style and comfort are key for your lady and for us. Mix and match our slacks, skirts and culottes with blouses, t-shirts and knit tops. Lots of outfits for very reasonable prices!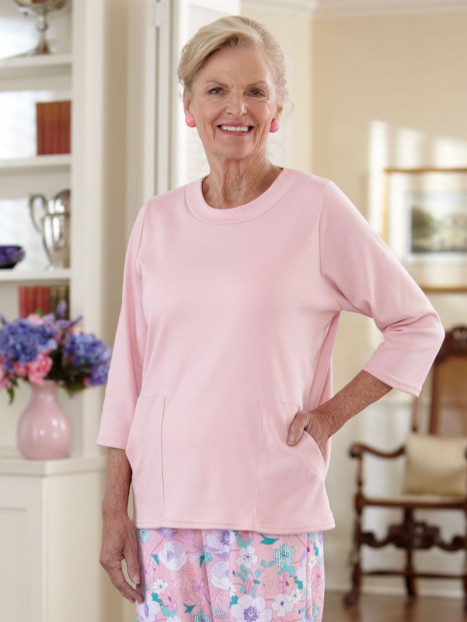 Going out for lunch, a game of bridge or most any occasion, our pants sets and knit sets/separates will come in handy. For more casual wear, look at our very popular sweatsuits available all year long!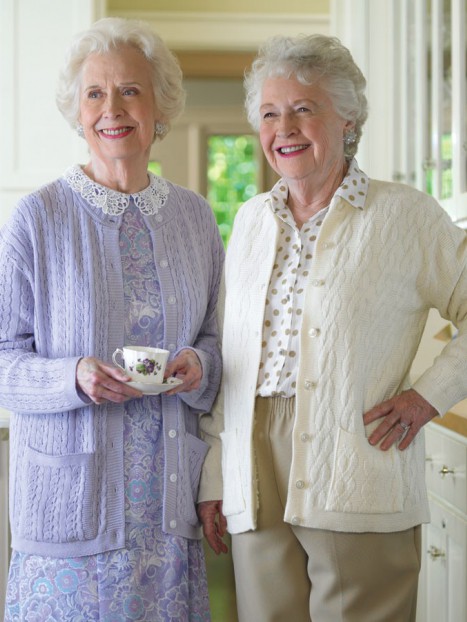 Sweaters, vests, fleece cardigans. They come in many colors to coordinate with her wardrobe. Our prices are great so choose a few. She might also want a shawl.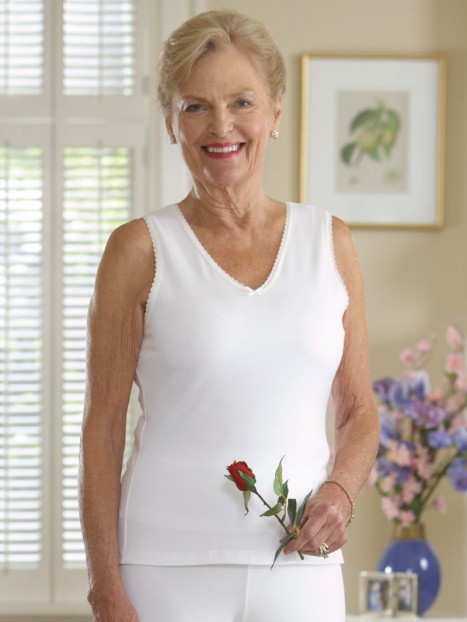 The extra layer of soft fabric is great for seniors with sensitive skin and also makes clothing glide on more easily.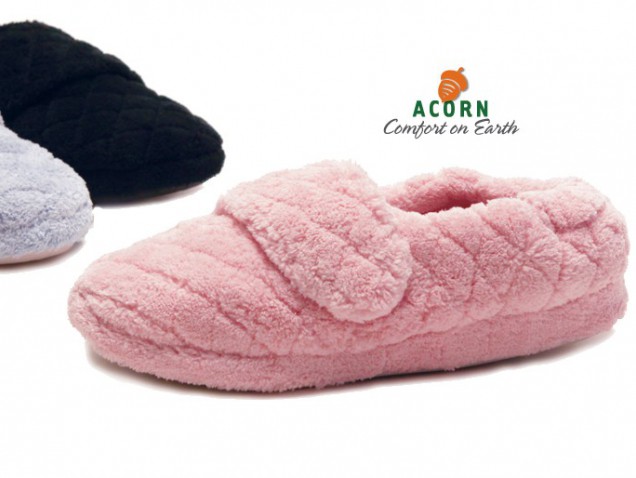 The Acorn® Spa Wrap slippers have great cushioning and non-slip soles to help prevent falls. These are just one example from our slipper collection.
Senior Clothing for Women - Needs Help to Dress/Assisted Dressing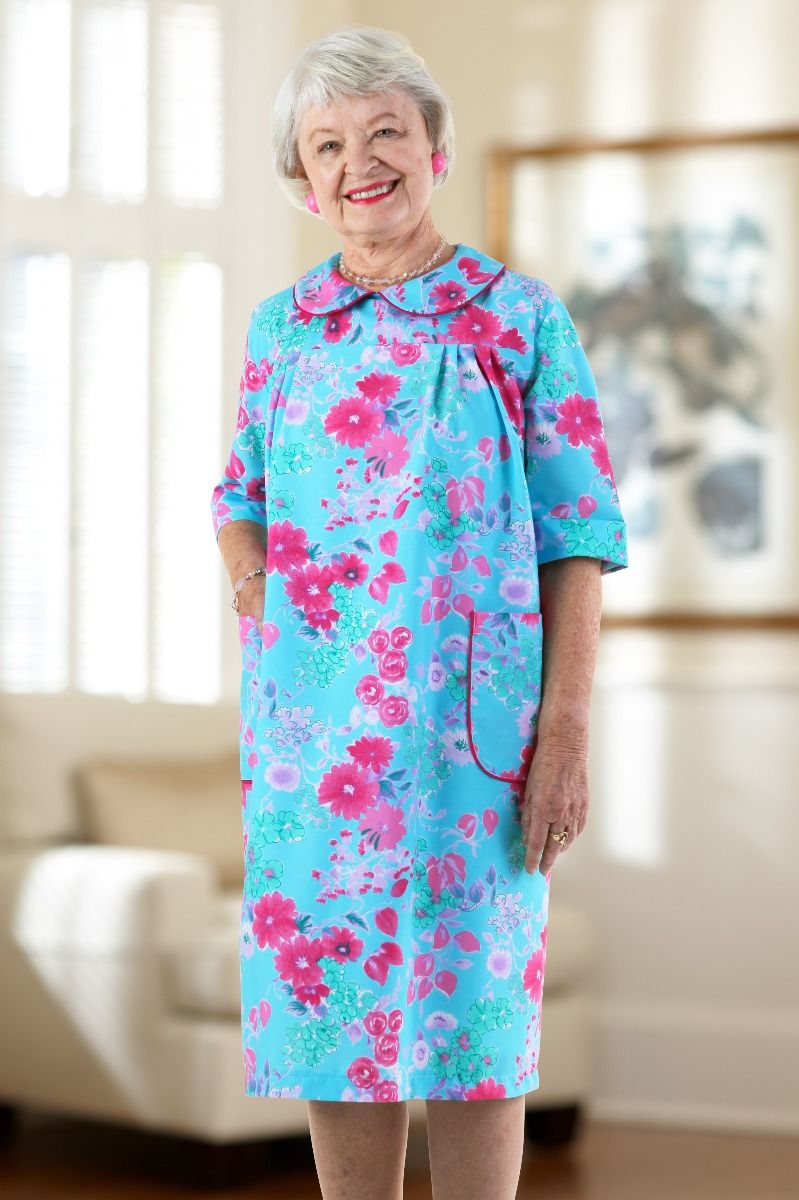 If she loves dusters, but cannot dress herself, our snap back styles are perfect. Hint: Look for the AD symbol on our garment descriptions for any of our adaptive clothing.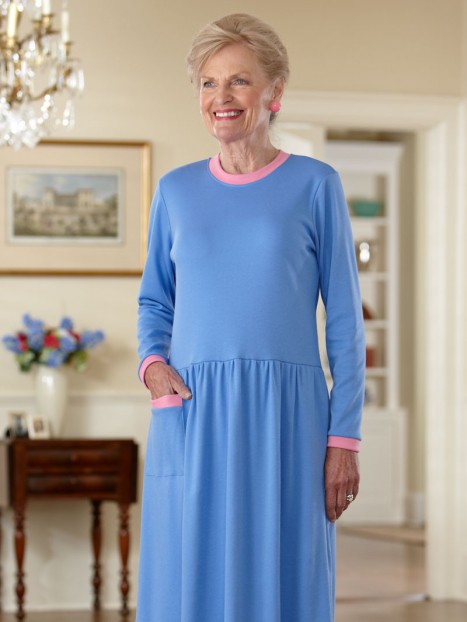 Our adaptive dresses for your senior lady are beautiful, comfortable and wash and wear! They are also very easy for a caregiver to assist the lady in the dressing process. The dresses open completely down the back so dressing can occur while she is still lying in bed or sitting in a chair.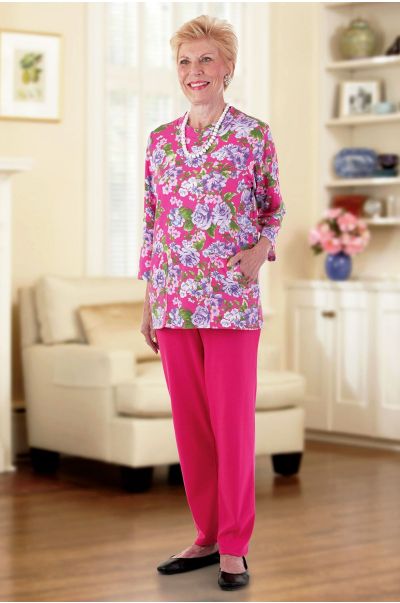 Depending upon her need for assistance, choose our sets or mix and match with open back tops, regular tops, side zip pants or regular pants.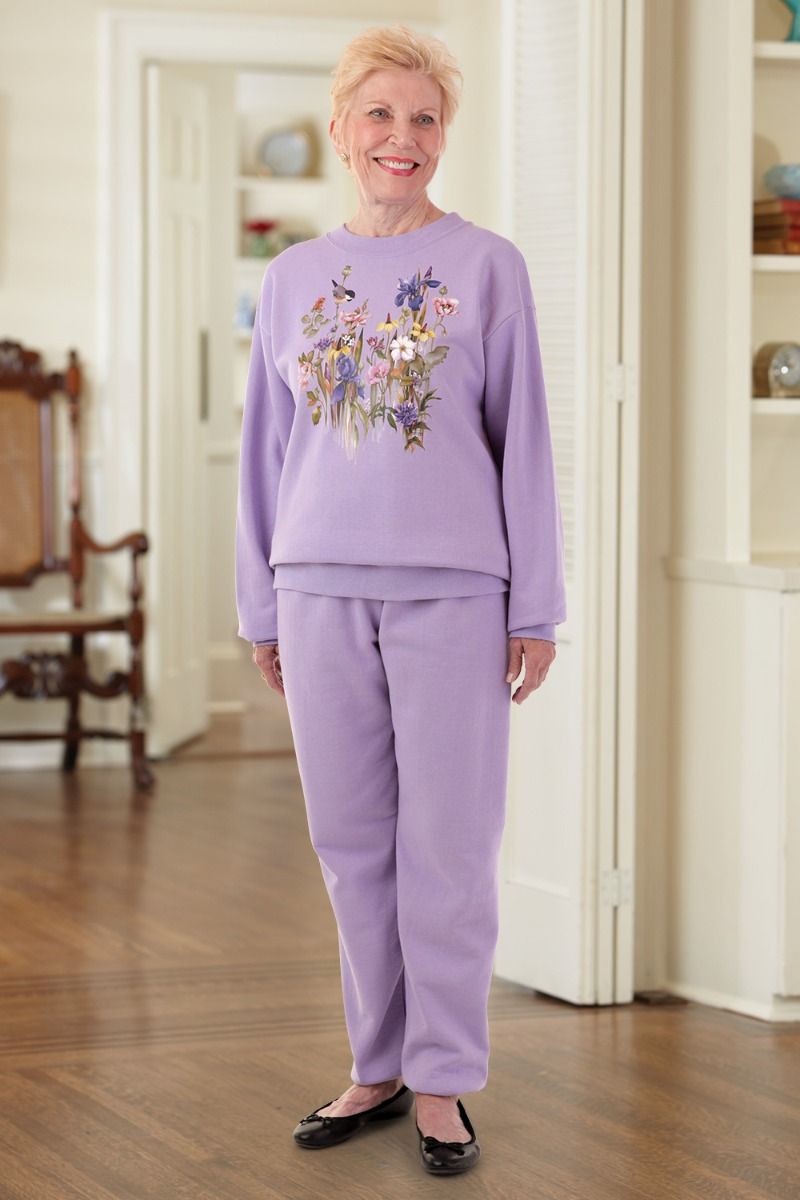 Need a little more warmth? Our adaptive sweatsuits are perfect.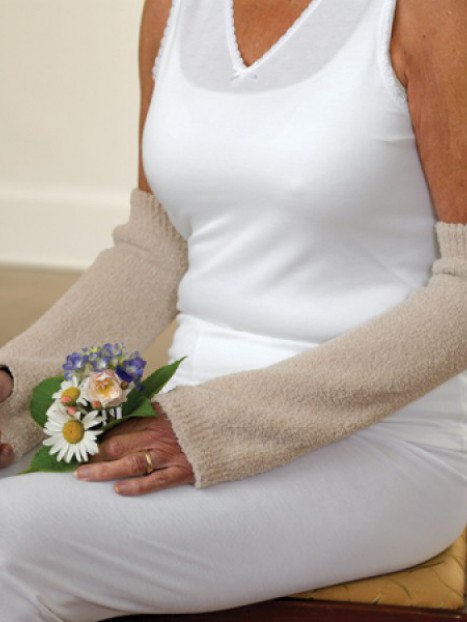 Is the fabric on her favorite chair rough or irritating to her sensitive skin? Try our arm protectors. Feedback is they are great. Arm and leg protectors are also good for protecting the skin from tears. As we age the skin becomes very fragile and skin tears are common, but these helpful barriers work very well for prevention.
Men's Senior Clothing Styles
Senior Clothing for Men – Dresses Independently/Self Dresser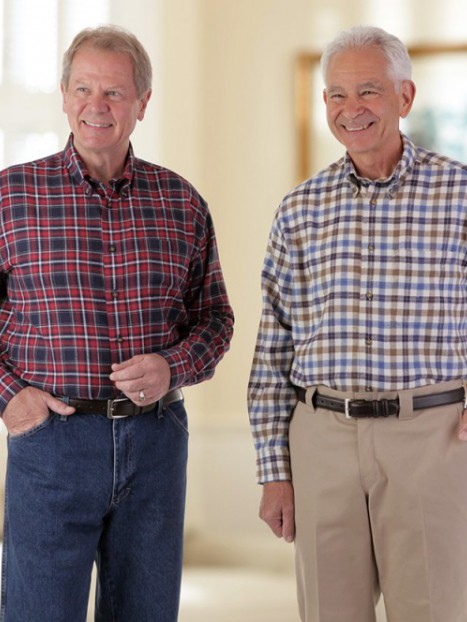 He loves flannel shirts, but you can only find them in the winter? We have them all year round! And, if adding VELCRO® brand front closures will help him to dress independently, we have that also.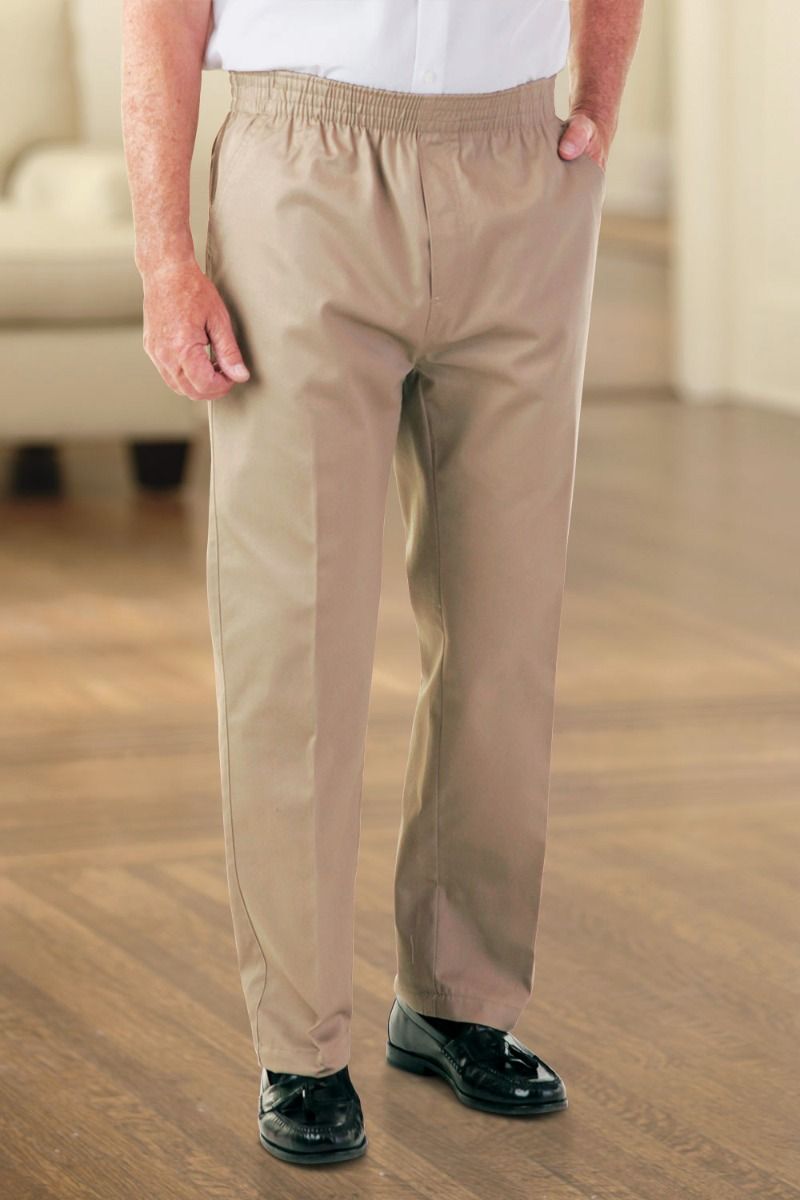 From our selection of comfortable, easy to pull on pants you will find various fabrics and styles.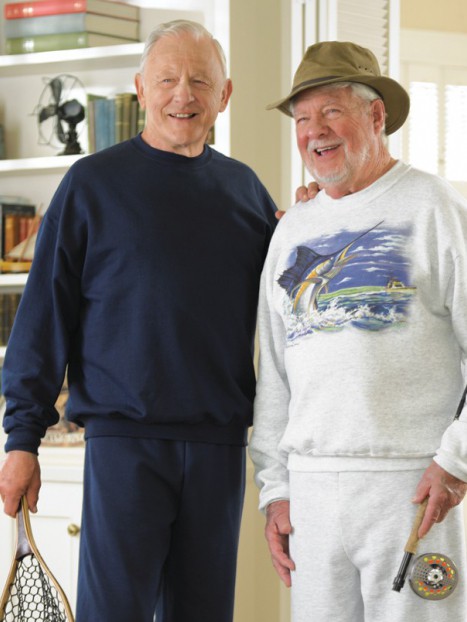 You can't beat our sweats for any casual occasion. Many colors and prints to select from.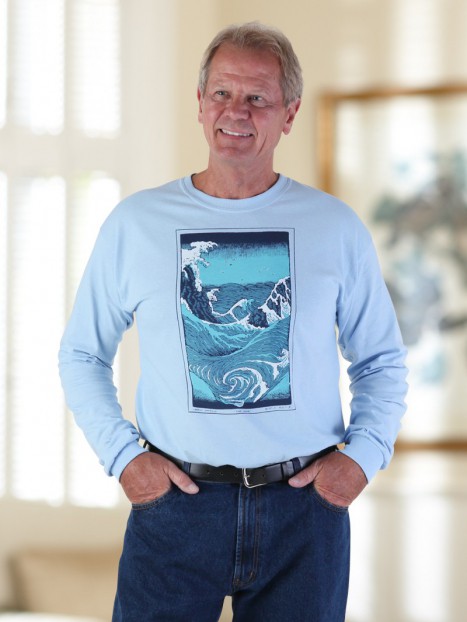 If he is a t-shirt guy, our selection of short and long sleeves, prints and solids is perfect.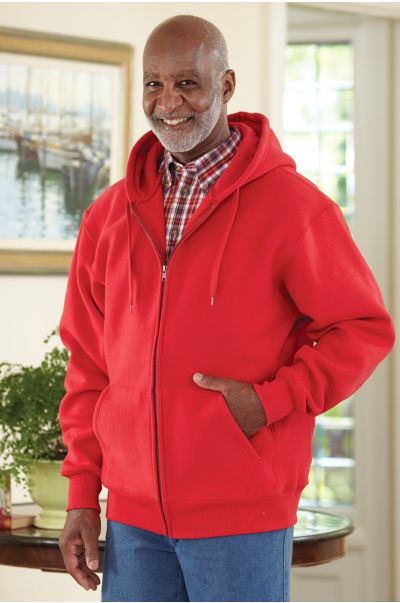 If he needs that extra layer of warmth, our sweaters and vests are always popular.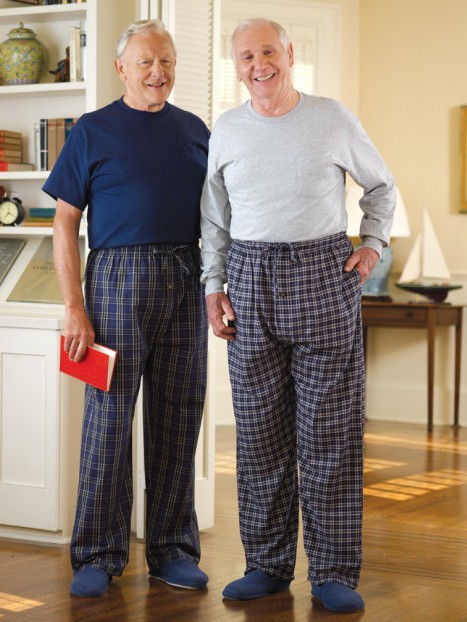 Take a look at our nightwear. He is certain to find something he loves.

Non-slip, hook and loop closure shoes are great as we age. No laces to struggle with and the non-slip soles are important in reducing falls.
Senior Clothing for Men - Needs Help to Dress/Assisted Dressing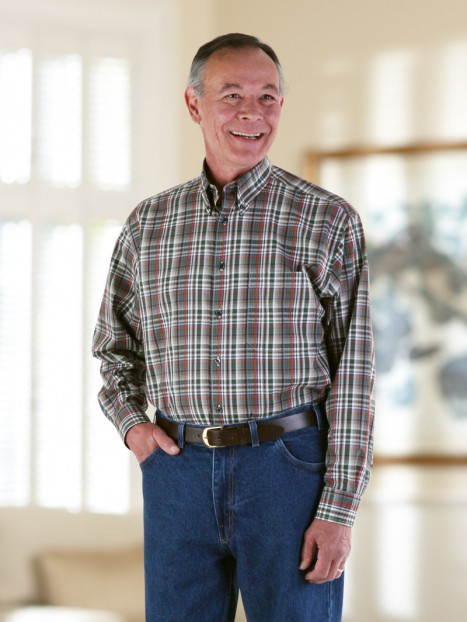 If he cannot put his shirt on by himself, our rear closure shirts are perfect. Easy for him and easy for his caregiver. Our t-shirts also come in snap back for his casual activities. Look for the AD symbol.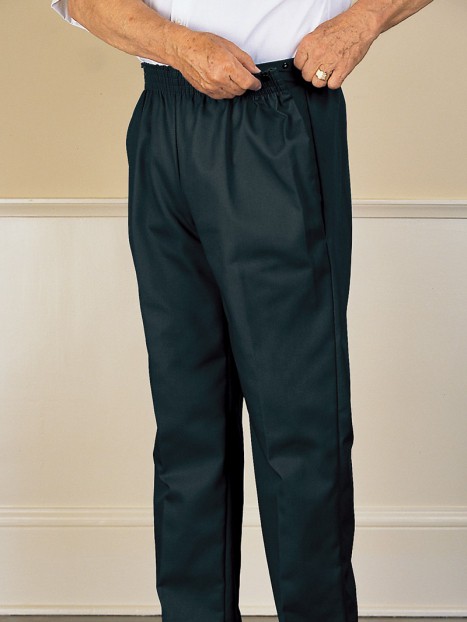 If pants are difficult to get on because of a mobility issue, our side snap pants will be perfect. We also have side-zip and back flap pants for the gentleman to make dressing easier.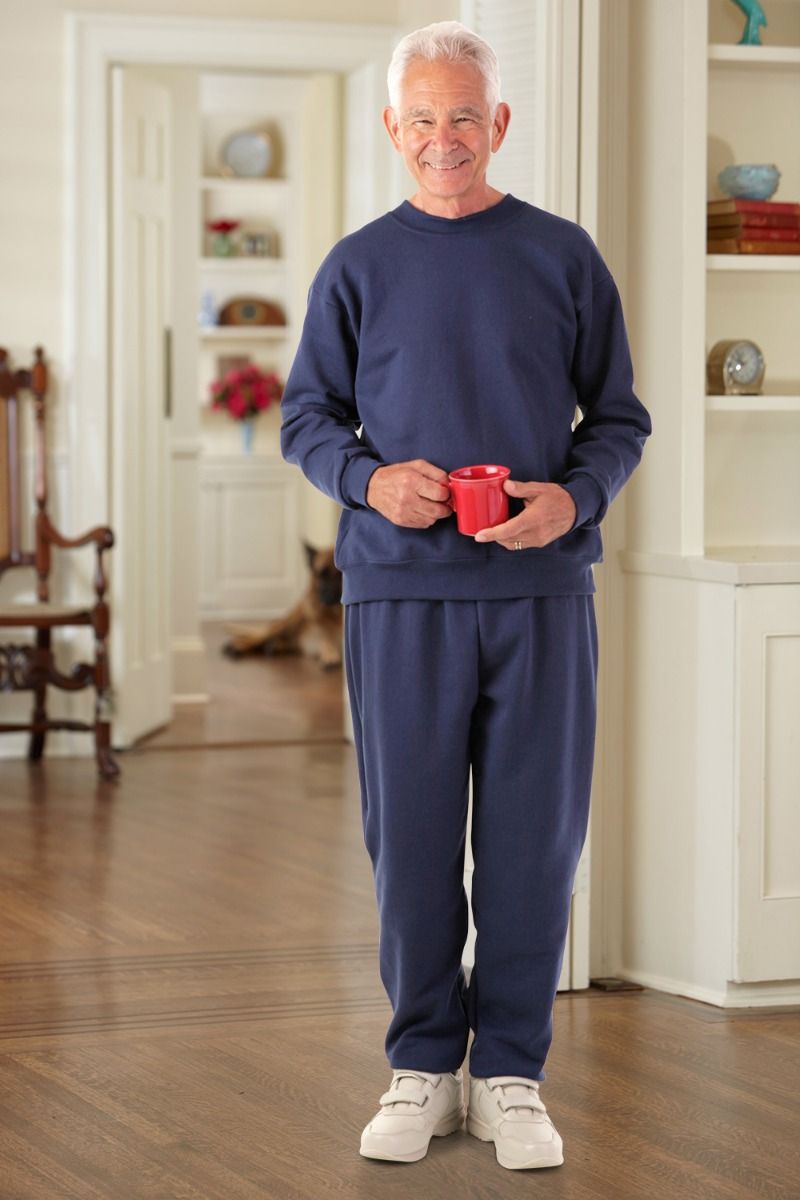 If he loves the comfort of sweats, but has trouble putting them on, try our adaptive sweats. They are favorites of our customers.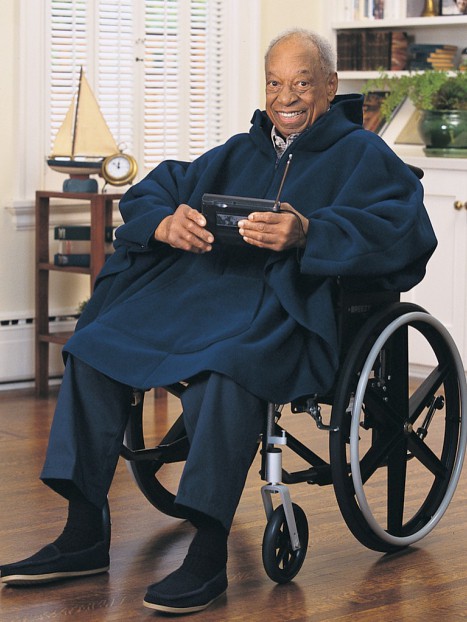 Our wheelchair ponchos are designed for full coverage and comfort, and our wheelchair and walker accessories make very useful gifts.